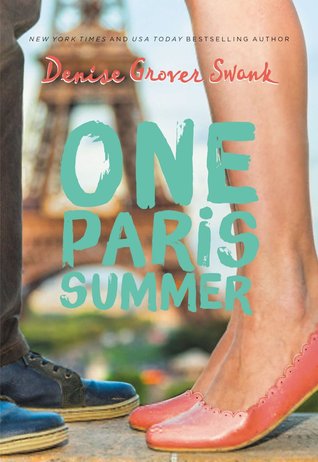 Most teens dream of visiting the City of Lights, but it feels more like a nightmare for Sophie Brooks. She and her brother are sent to Paris to spend the summer with their father, who left home a year ago without any explanation. As if his sudden abandonment weren't betrayal enough, he's about to remarry, and they're expected to play nice with his soon-to-be wife and stepdaughter. The stepdaughter, Camille, agrees to show them around the city, but she makes it clear that she will do everything in her power to make Sophie miserable.

Sophie could deal with all the pain and humiliation if only she could practice piano. Her dream is to become a pianist, and she was supposed to spend the summer preparing for a scholarship competition. Even though her father moved to Paris to pursue his own dream, he clearly doesn't support hers. His promise to provide her with a piano goes unfulfilled.

Still, no one is immune to Paris's charm. After a few encounters with a gorgeous French boy, Sophie finds herself warming to the city, particularly when she discovers that he can help her practice piano. There's just one hitch—he's a friend of Camille's, and Camille hates Sophie. While the summer Sophie dreaded promises to become best summer of her life, one person could ruin it all.
Opening line:
"We are now making our final descent into Charles de Gauelle."

Sophie does not want to be in Paris, much less live with her father and his new wife and the new stepsister. But both her mother and father insisted that Sophie and her brother Eric enjoy a few months in France.

Once there, Sophie is bullied by her stepsister and friends, she clashes with her dad and her need to be loved by him but pushing him away because he left her and she has no piano for an outlet for her emotions. Basically, her summer sucks.

Even though there is a lot Sophie can whine about, and she does, she doesn't come across as a self-centered teenager. She's trying her best to please everyone and be happy but there are so many elements working against her. Even the cute Parisian boy she meets doesn't seem to like her.

I enjoyed the storyline of a blended family trying to work out for the best. Those emotions were real to me and I think will resonate with many readers. The characters were well-developed and had their own arcs throughout the story. There were characters I wanted to hug and others I wanted to throat punch. The love interest wasn't love at first sight, thank heavens, but progressed through the story.
The setting was lovely and felt authentic (now I want to visit Paris!). Overall, I think this was a great summer read for any age and I would defiantly pass it along to any teen (or adult).

A good, clean read.

I received this book in exchange for an honest review. All opinions are my own.