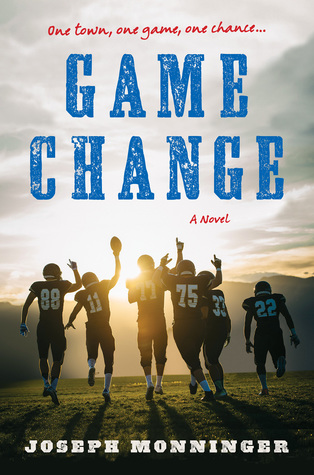 Can one game really change everything?

Seventeen-year-old Zeb Holloway works in his uncle's auto repair shop and spends his weekends deer hunting in New Hampshire's backwoords. He's a quarterback on his high school's undefeated football team, but he never plays. Why would he when T.T. Munroe—a walking, talking highlight real—is around? That is, until T.T.'s injured a week before the state championship game.

Now Zeb's tapped to start. As he assumes the role of QB and team leader, it feels like the entire town is watching. Girls want to talk to him and adults want to shake his hand. When a college recruiter says Zeb could have a future beyond his small New Hampshire town, he realizes there's a bigger life out there for him…if he can play his heart out.
Opening line:
"Later, in the week that followed, Zeb Holloway watched the injury form again and again."

A coming-of-age story told from a second string football players perspective.
Zeb Holloway doesn't plan on playing much on his high school football team, thanks to the awesome QB who is bring the team to state. Until the QB is hurt. Zeb is thrust in the spotlight and he's not too sure what to think about the instant notoriety.
The story follows Zeb through the week leading up to the state game. He wrestles with who he is, where he's from and what he really expects out of life. Each day leading up to the game seem to solidify and center him in what he wants. Things move a little fast compared to what it might move in real life but I liked the day-to-day decisions and effects.

There are a few "F" bombs and a bit of swearing.
There is kissing.
There is "boy" humor.

Thanks to netgalley for the early read!