LOVE ME TRUE: Overcoming the Surprising Ways We Decieve in Relationships by Jason B. Whiting, PhD, LMFT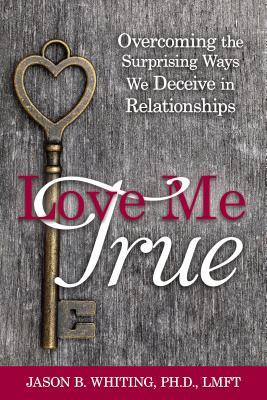 Even though love should be beautiful and fun, it can also cause emotional ups and downs. In Love Me True, marriage and family therapist Dr. Jason B. Whiting uses engaging, relatable stories to show that deception is often at the root of relationship breakdown and teach how couples can use truth to strengthen their relationships.

•Understand your own tendencies to lie.
•Avoid playing the victim.
•Use body language to communicate more effectively.
•Be present with your partner.

Use Whiting's counsel to overcome dishonesty and build a more open and trusting partnership.
Opening line:
"The meeting of two personalities is like the contact of two chemical substances:
If there is any reaction, boy are transformed. Carl Jung"
This book would be a good one for those thinking of marriage, engaged or long-time married spouses. Each chapter is full of relationship stories, thoughtful examples and ideas. At the end of each chapter, Mr. Whiting sums up the main points and discussions questions.
There were a lot of insights I took away from the book. Understanding my emotions is a good way to start! Anger, fear, pain can all make me lash out at all those around me without thinking what I'm feeling or saying.
I also learned there's a lot more to dishonesty than lying.
This is a quick read with understandable concepts and not weighed down in a lot of therapy jargon.